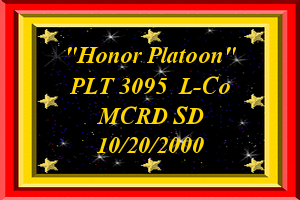 "Honor Platoon"
PLT. 3095 L-Co
MCRD San Diego
October 20, 2000










"Proud Mom & Marine"
List Of Other Pages:
"Austin's First 10 Days Leave"
"A Marine Recruit's Basic Training"
Some General Information
"The Healing"
Dedicated To Vietnam Veterans
And The Women Who Served Them
I was very fortunate to find this wonderful and informative support group that was created by Marine Moms to support Mothers with sons and daughters in the Marines. Other branches of the service, family members and loved ones are also welcome.
It is absolutely the best and a must for parents to join. Many Moms would not have made it through their sons and daughters first 13 weeks away at basic training so easily without their support and ability to answer many of their questions.

Click to subscribe to MarineMomsOnLine (MMO)
| | | |
| --- | --- | --- |
| | | |